DH Texas Poker - Texas Hold'em
10
A Fun and Engaging Poker App
Poker is one of the most popular card games around the world. The thing about poker is that it is a lot more about tactics than luck when compared with other card games. People end up winning a lot even with poorer cards just with solid strategy and a good understanding of every player's habits and facial expressions. Poker is always more interesting live when you can enjoy each other's company and second guess every player while taking into account how they are behaving. The online poker apps are not able to provide the same experience but are still extremely popular as it lets you have a game of poker even when you are not around friends or don't have cash or a deck of cards around. DH Texas Poker – Texas Hold'Em is one of the most enjoyable apps in this regard as it allows a great environment for poker along with some interesting betting options as well.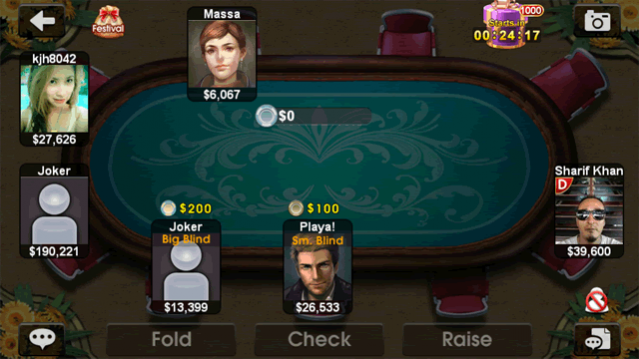 It is very easy to get started with this Poker app. You can register as a guest, with a social media account or with an e-mail address. The good thing about the app is that if you play as a guest, your settings would be maintained on your phone and you won't have to make a profile every time. The benefits of registering with an e-mail id is that you can log in and play the game from any phone.
The poker app's homepage is interesting and colorful. It is slightly overwhelming to begin with as none of the options are introduced to the user even the first time. With no legend available, you would have to tap on each icon to see what it's all about. This is where a tutorial can come in handy as it can help the app introduce all the features to the user. Basically, the options at the bottom are normally not required. One is for accessing the app's settings, another is for accessing the in-game mails while the rest are mostly spinning games geared towards trying your luck to hit the jackpot as far as in-game currency is concerned.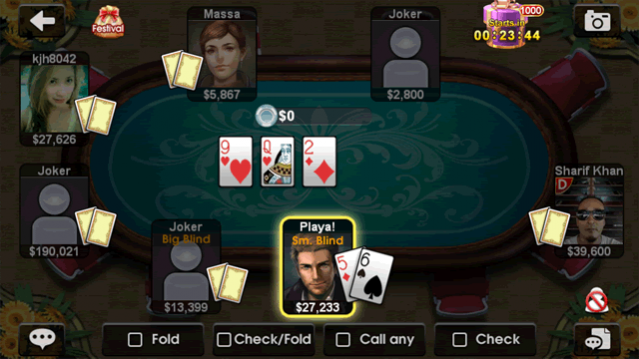 The actual option of playing the game is at the top left and it is named Play Now. This is where you can actually play poker. The game is played online with a maximum of eight players including the user. If someone leaves in the middle, another online user can join in but would only get involved when a new hand begins. The traditional options of raise, call and fold are available whereas you can automate as well by deciding beforehand about what you want to do while others are still deciding on what they want to do. This is normally a great choice if you are also doing something else as it ensures that you won't miss out on any turn. The gameplay is interesting and engaging and while you can't see every player's facial expressions, the fact that you can take a look at their moves and guess what they must be having to show such levels of confidence offers an adrenaline rush of its own kind.
Apart from the regular gameplay, there are other chances of betting available as well where you can bet on games being played by other online players or the app's virtual users. These are good ways to generate in-game currency for playing poker.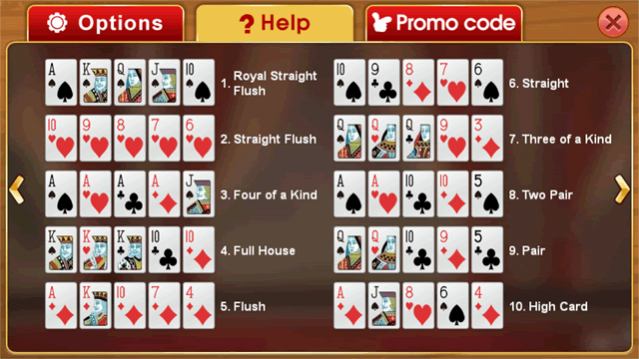 The app's settings section also has an introduction for newbies so that they can get an idea about what beats what in poker and when you should be confident and when you should be folding. While it doesn't provide any strategies, it does a good job of introducing all types of scenarios and then lets the player decide how to play the game!
Features:
Colorful and feature-rich design
Great gameplay for poker
Easy to play as a guest
Good photo driven introduction to poker
Nice ways of generating in-game poker currency present
Conclusion:
DH Texas Poker – Texas Hold'em is a solid poker app which gives you ample opportunities to play poker with players from all around the world. Solid gameplay, good imposition of rules and nice poker sounds all make the app a true winner!
---
Add a review
Tell us your experience with
DH Texas Poker - Texas Hold'em
10
RELATED PROGRAMS
Our Recommendations
---
---
---
---